The 2021 Subaru Love Promise Customer and Community Commitment Award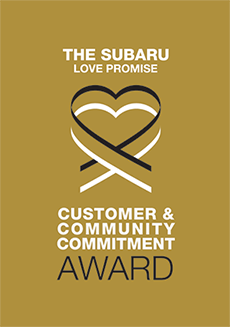 We've been nationally recognized for our dedication to our customers, our community, and the Subaru Love Promise.
We're honored to receive the 2021 Subaru Love Promise Customer and Community Commitment Award. This award nationally recognizes elite Subaru retailers who provide an exceptional customer experience at every interaction with Subaru. These retailers have also demonstrated an outstanding commitment to supporting passions and causes in their local communities in important areas such as the environment, community, health, education, and pets.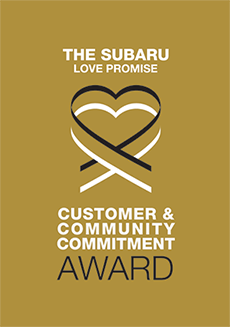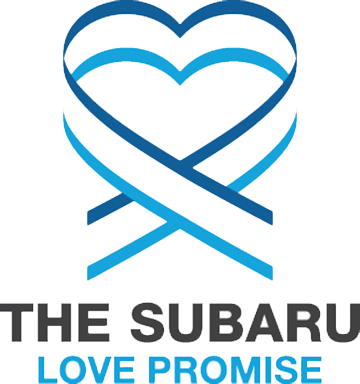 What is the Subaru Love Promise?
Subaru and our retailers believe in making the world a better place and the Subaru Love Promise is our vision of respecting all people. This is our commitment to show love and respect to our customers and to work to make a positive impact in the world.
How is Lester Glenn Subaru dedicated locally to the Love Promise?
Our Love Promise can be seen in various partnerships with local charities and nonprofits. Lester Glenn Subaru is grateful for the opportunity, not only to be a part of our community, but to serve it as well.
Pampered Pets, Kindred Souls Canine Center, Associated Humane Societies of Tinton Falls, NJ
Joseph A. Citta Elementary, St. Peter School, West Dover Elementary
Northern Ocean Habitat for Humanity, Make A Wish New Jersey, Big Brothers Big Sisters of Ocean County, Special Olympics New Jersey, Peoples Pantry Relief Center, Point Pleasant Challenger Flag Football Program, Interfaith Hospitality of Ocean County
American Cancer Society, Phillip Citta Regional Cancer Center
Love Promise Stories from Lester Glenn Subaru
Subaru and Lester Glenn Subaru believe in making a positive impact on the communities in which we live and work. We uphold that belief through our Love Promise Community Commitment. Every month, we select inspiring stories from customers and partners from around our area who strive to support our collective commitment and feature them here
Lester Glenn Subaru Loves to Help - December 2021 - Emily W
Lester Glenn Subaru was proud to team up with the Toms River Police Department to collect gift cards to contribute to the Kentucky State Police, the lead agency in the rescue, recovery, and rebuilding of western Kentucky after the December 10th tornadoes that destroyed the area. Students of Toms River Cedar Grove Elementary made holiday cards to be given with the gift cards we collected, and all contributions are to be distributed to the troopers and their families to assist impacted families in rural areas. Through the month of December, we sent out a message to our customers and employees alike to gather support for this cause. We are proud to contribute to families in need and to work together with the TRPD.
---
Lester Glenn Subaru Loves Pets - Oct / Nov 2021 - Emily W
Lester Glenn Subaru Loves Pets and this year, we focused on supporting the underdogs by partnering with the local Humane Society to collect donations and raise awareness for animals in need. For the months of October and November, Lester Glenn Subaru worked hard with customers and employees alike to try to gather more donations than ever before. We featured employee pets in our service waiting area and enjoyed sharing our families and stories with our customers, especially our most recent employee dog adoption from the Humane Society in October! We thank everyone who participated and look forward to another fantastic turn out next year.
---
Subaru Loves to Help - November 2021 - Subaru C
Lester Glenn Subaru Loves to Help and our salesman Ron Giordano is a shining example of what we strive to be for our customers: a friend, especially in times of need. When Ron's customer got a flat tire on her Subaru with over 200,000 miles, she came straight to Lester Glenn. Unfortunately our service department had closed for the evening, but Ron stayed late to fill her spare tire with air and replace it for her, making sure she would be safe to drive until she could have it replaced with a new tire. And four days later, her new Subaru upgrade arrived from the factory! Thank you Ron for being an example of both the Lester Glenn Experience and Subaru Love Promise.
---
Lester Glenn Subaru Loves Pets - October 2021 - Chelsea P
A core principle of our Subaru Loves Pets initiative is an ongoing commitment to help all pets find their perfect, loving home. We stand by this commitment through a scale of actions, and this month we are especially proud to feature one of our very own for doing her part. One of our first featured adoptable dogs for the month of October was Cupid, a 4 - 5 year old sweetheart who had a bit of a rough start...but she put an arrow right through the heart of our very own Customer Care Specialist Chelsea! Chelsea and her partner met with the Associated Humane Society of Tinton Falls, our partnering shelter, and decided to give Cupid her forever home. Congratulations to Chelsea and Cupid for finding each other! We are so excited to see what other dogs find their new forever homes, this month and always!
---
Clash of The Titans; Charity Football Game - Dan R
It all began over a year ago. Lester Glenn Subaru approached the Point Pleasant Challenger Flag Football Program, a non-profit organization, with an offer to help and donate to the program. The Challenger Program had a special attachment for Jamie Palazzo, General Manger for Lester Glenn Subaru. His two sons, who played football for the Point Boro High School, had participated as volunteers with the Challenger program. Jamie's sons joined the Challengers for practice every Thursday evening and play every a game Sunday morning, Challengers versus the Point Pleasant Boro High School Football team. Lester Glenn Subaru pledged to donate $5 per car sold through out the year, hoping to raise $10,000. Even at the height of the worst pandemic ever, that didn't deter anyone at Lester Glenn Subaru. They were able raise $10,100! The Lester Glenn Subaru family not only made a generous contribution but also, gave of their time and energy. In continuing support of the the challenger football program, Clash of the Titans football game was an epic showdown between two super powers on the Jersey Shore was born. Lester Glenn Subaru employees faced the fearsome Challengers on the gridiron. The event was held at Community Park in Point Boro. The entire community was invited to come and listen to music, win prizes, ride the rides and eat all all the food trucks. The mayor of Point Boro was the master of ceremonies and kicked off the event, he was even seen wearing a Challenger Game Day Jersey. No bias there! Mother nature didn't cooperate, and the game soon was to be known as the " Mud Bowl". The rain didn't stop the excitement and enthusiasm that had been building in anticipation of this great event. The game was dominated by the Challengers, controlling the line of scrimmage and maintaining a very strategic run game. The event was a huge success, but it was more than just a football game, it was about a community, a car dealership and a special needs program that came together to show other towns, schools and the world what true inclusion looks like. The laughter and smiles on everyone's face was proof. The Challenger program is honored to call Lester Glenn Family and we look forward to many more events with our family.
---
CLASH OF THE TITANS: LG vs. PP Challengers - Emily W
Lester Glenn Subaru Loves to Care! On August 8th, 2021, Lester Glenn Subaru faced off with the Point Pleasant Challengers in a Flag Football Game to support their cause, creating a team where all children can play. The teams met in the Community Park in Point Pleasant, NJ, in what was quickly deemed The Mud Bowl of 2021; but rain couldn't stop either the Challengers or Subaru in a fierce battle of two dedicated teams! The crowd enjoyed the food vendors, games, music, prizes, and rides as the teams played, with the Challengers taking victory over Lester Glenn. What is sure to be the first of many games will be remembered by all, and all proceeds raised go to benefit the team!
---
Lester Glenn Subaru Loves to Care - Make a Wish - Antonio f
Eight year old Antonio of Camden, New Jersey, had his wish come true on Friday, December 11th, 2020, thanks to Lester Glenn Subaru and the Make-A-Wish Foundation. At the age of three, Antonio was diagnosed with a form of autism, and just earlier this year he was diagnosed with a rare form of cancer that qualified him for a wish from the Make-A-Wish foundation. His wish was to go on a shopping spree - little did he know that when he woke up Friday morning, a fleet of Subarus would be headed his way filled with gifts he had wished for! At three o'clock on Friday afternoon, a fleet of Subarus, escorted by the Camden County Police department, arrived at Antonio's doorstep with volunteers from Make-A-Wish and Lester Glenn Subaru to unload gifts in front of his home, as they cheered him on from a safe distance. Antonio was delighted to see brand new bedding, clothes, and sneakers, a new desktop computer, HD-TV, Hot Wheels and race car tracks, PlayStation console, and from Lester Glenn, a new classic Popcorn Machine! Lester Glenn Subaru and Make-A-Wish love to care, especially about those in need during this Holiday Season. We look forward to working together again to make more wishes come true!
---
Lester Glenn Subaru Loves to Help - November 2020 - Emily W
We were honored to meet with representatives from Interfaith Hospitality Network of Ocean County, Inc. yesterday! As part of the Subaru Loves to Care initiative through the Subaru Love Promise program, Lester Glenn Subaru stopped by to donate 80 Beantown Blankets. The Interfaith Hospitality Network of Ocean County is a nonprofit, interfaith ministry committed to providing shelter, meals and assistance to homeless families. We are proud to help support an organization that does so much for our community!
---
Lester Glenn Subaru Loves Pets - October 2020 - Emily W
At Lester Glenn Subaru, we are dedicated to returning the love pets give us. We understand the statistics and know what many of the shelters in our community are up against, especially in these difficult times. At Lester Glenn Subaru, we strive to be more than a car dealership and are committed to making a difference in the lives of animals - including those in shelters - as well as assist our partner shelters. Since 2015 we have partnered with the Associated Humane Society of Tinton Falls to hold adoption day events at our showroom. Each year, we set to improve upon the prior year's festivities. With additions like a Pet Costume Contest, donations for test drives, covering adoption expenses for attendees, partnering with vendors to provide complimentary supplies, food and adoption kits, the adoption events are something we look forward to every year! Our most recent adoption event, held Saturday, October 24, was especially challenging due to COVID-19 related pre-cautions. Unfortunately for our partnering shelter, due to COVID-19, they had to cancel all prior events and engagements throughout 2020, making our adoption event one of their first in the year. Masks on, hand sanitizer readily available, and social distancing in place - nothing could stop a fun, productive and important day for all of us. We were fortunate enough to be joined by our vendor partners from local PetSmart stores, Merrick Pet Care, Simply Nourish, Authority Pet Supplies, Castor & Pollux, Only Natural Pet, 92.7 WOBM, 105.7 The Hawk and Cara Mia Pizzeria. From free food for humans, to giveaways for the children in attendance, complimentary pet supplies for the pet owners and free food, water and toys for all the pups in attendance, we had a great time! The Associated Humane Society of Tinton Falls was able to bring along four adoptable pups and two kittens to our event. Attendees waited patiently for the adorable adoptables to make their debut at our event and start the meet and greet! The day was capped off by our second annual Howl-O-Ween Pet Costume Contest, where the top 3 best-dressed pups and their handlers went home with some great prizes like gift cards to PetSmart, coupons from our vendors, a nifty certificate and vouchers for sales and service at Lester Glenn Subaru. We thank all of our vendor partners, our Subaru team and the Associated Humane Society of Tinton Falls for making the event such a huge success for everyone involved. Between the test drive donations, adoption fees covered, donated goods and supplies, our hope is always that our shelter partner receives as much assistance as possible to help them continue their amazing efforts of making a difference in the lives of animals in our community. We truly thank them for their commitment to our community and are proud to have the opportunity to assist them as we have the last few years.
---
Lester Glenn Subaru Loves to Help - Cody Monica - Ben S
On Sunday, October 4th, Cody Monica got a call on his day off from customer Ben who was having trouble operating his new Subaru. While it was his day off, Ben explained he needed help in order to get a family member to the hospital - so Cody hurried to his home and spent 30 minutes helping him to feel comfortable and explain some vehicle features to help him get where he needs to go. On and off the clock, Cody was an excellent example that Lester Glenn Subaru Loves to Help and will always go the extra mile for our customers. Thank you Cody for sharing this positive experience!
---